Pipestone Journal
The Pipestone Journal is the premier pork print journal featuring and serving producers just like you.
The challenges and speed of business that independent producers face today are different than the generations before them. By utilizing Pipestone's world-renowned resources and expertise, we can work together to create the farms of tomorrow.
The Pipestone Journal provides top-notch, timely information in the areas of Health, Management, Nutrition, Marketing and Business.
Released quarterly in January, April, July and October.
Spring 2022 Issue
Data. Data reporting. Data analyzing. We live in a world of data, with data analysis right at our fingertips. Although it often feels overwhelming, it doesn't have to be. Here at PIPESTONE, and in the pork industry, reporting and understanding data is a valuable tool for ensuring your farm is profitable, efficient, and vital to drive your farm into the next generation.
Throughout this Spring issue of the PIPESTONE journal, key data managers will provide you with both valuable tools, as well as insights and helpful methods to ensure you understand and can apply your data results directly to the success of your farm.
Winter 2022 Issue
Pork production is a global endeavor, and PIPESTONE is not a rookie to the global market. With sow farm management in the United States, Mexico, and China, as well as research touch points in multiple other countries, PIPESTONE is global. In this January issue of the PIPESTONE Journal, team members share the value of being involved in a global market, and share tips and insight gained from global experience for the benefit of the family farmer in the United States. Throughout the next 44 pages, you will learn from team members about PIPESTONE's involvement globally in veterinary services, management, nutrition, markets, business and research.
Furthermore, this global issue contains knowledge, insight, and tips to serve as a guide through the potential risk of an emergence of a Foreign Animal Disease, particularly African Swine Fever, into the United States.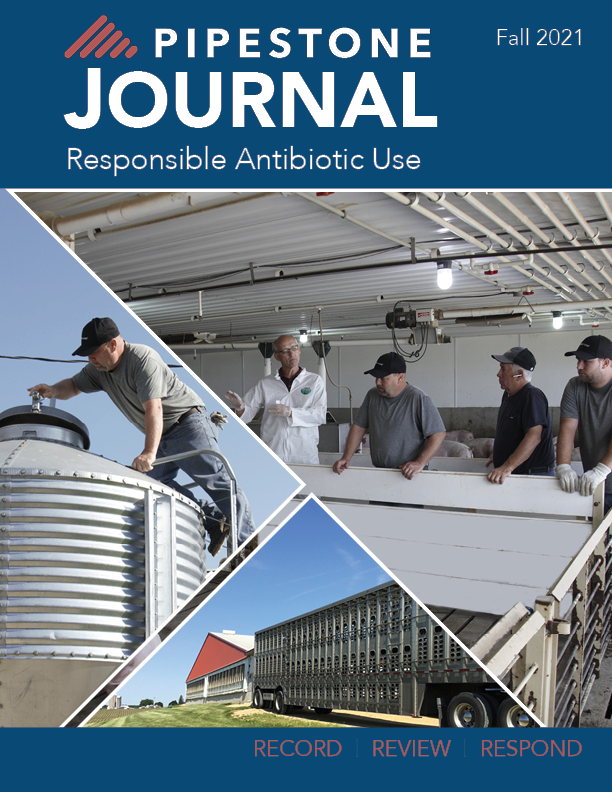 Fall 2021 Issue
Welcome to the one-year anniversary edition of the PIPESTONE Journal, featuring responsible antibiotic use. The first PIPESTONE Journal was released in October of 2020 in an effort to provide farmers, just like you, with the timely tools and information needed to be successful in today's competitive market.
We are pleased to share this timely topic of responsible antibiotic use with you, on behalf of the PIPESTONE team. Throughout the Journal, you will find tips and tricks to practice responsible antibiotic use on farm, statistics and data research from the Pipestone Antibiotic Resistance Tracker (PART) and the IMAGINE project, a producer story highlighting their journey of practicing responsible antibiotic use on farm, and more!
Summer 2021 Issue
It is that time of year… summer! Where the bright sun is shining and the corn is growing around us. Despite the heat of summer days, we as farmers put in long days both in the fields and in the barns to ensure we provide the best care we can for our animals and our environment.
In the July issue of the PIPESTONE Journal, we highlight the theme, Enhance Performance. To me, enhance performance means improving upon the way you currently perform and never settling for "good enough" and striving to create the farm of tomorrow.
From summer diet formulation hacks and reaching your target market weights, to using KPI's to understand the impact of production decisions, this issue of the Journal has the tips and tricks from PIPESTONE expertise to help you enhance performance.