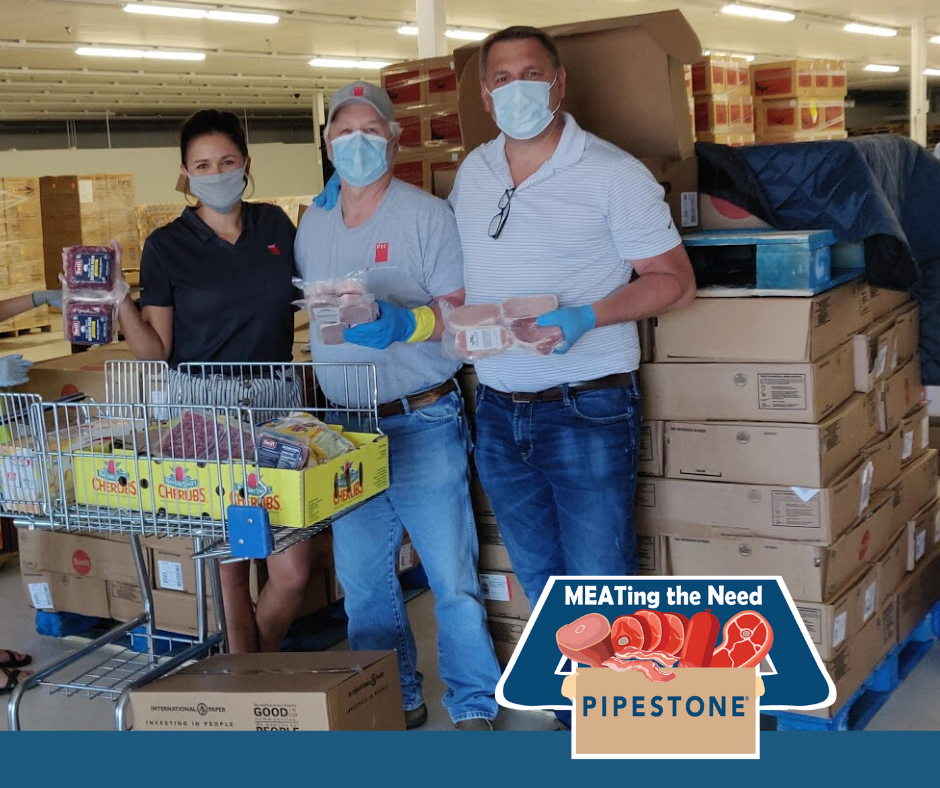 As Covid-19 brought financial stress and uncertainty to many households, Pipestone launched into action for our farmers and communities. Pipestone's MEAT the Need campaign ran May through September and brought pork contributions to food pantry agencies in the Midwest. The combined inputs of Pipestone and contributing partners resulted in raising $372,000 which our team turned into over 800,000 servings of pork donated.
Treasure was combined with talent as our team members also personally assisted in food distribution events at several locations. "Feeding South Dakota is so incredibly grateful for our partnership with PIPESTONE. So many families in our communities will benefit from this amazing gift of pork protein," said Matt Gassen, CEO, Feeding South Dakota.
The campaign added pork to pantry menus in these communities:
Sioux Falls, SD
Fremont, NE
Ottumwa, IA
Rensselaer, IN
Pipestone, MN
Independence, IA
Sycamore, IL
Orange City, IA
Pulaski County, MO
Caring is one of our core values. Even though these are stressful times for pig farmers, we still feel a responsibility to help those in need where we can. Special thanks to all of the vendors, partners and employees of Pipestone, and pig farmers for their contributions to MEAT the Need."
- Dr. Luke Minion, CEO Pipestone
Thank you to our platinum sponsors: PIPESTONE, PIC, Boehringer-Ingelheim, AB Vista, Bill Barr, Alltech, First Bank & Trust, Merck, Zoetis and Spronk Brothers.
Other contributions provided by: ADM, Ani-Tek, Kemin, SAM Nutrition, Hamlet, DSM, Eide Bailey, First Choice, Chr. Hansen, KSI, Biomatrix, Kerry, CJ America, Pipestone employees and customers.