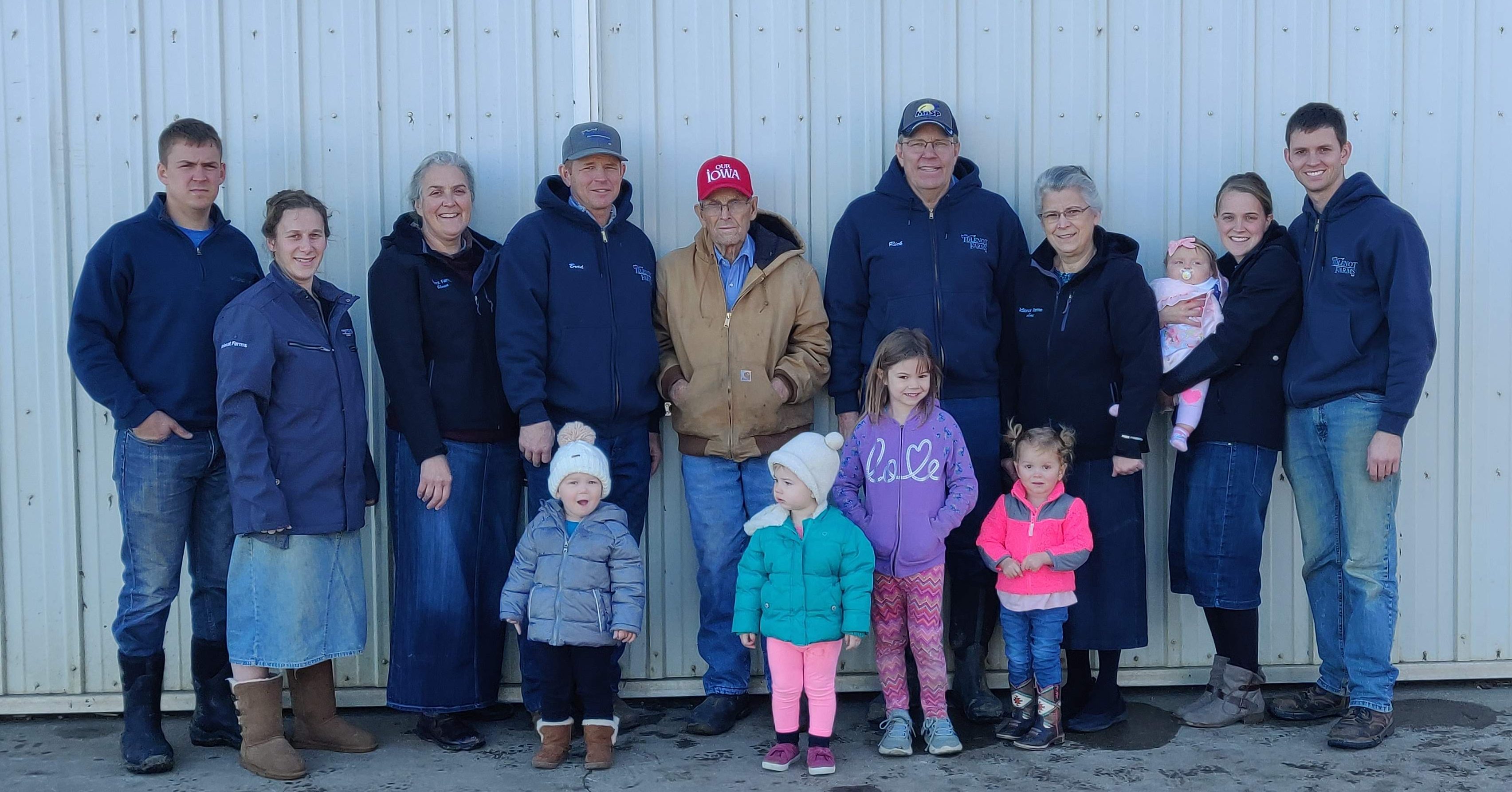 "I can remember sitting in a booth at the World Pork Expo when this technology was just being developed. As it was explained to us, I was like, 'wow.' That is quite a dream. I wonder if we will ever have that?" Brad Moser said. "It is real. It really works."
Brad and his brother, Rick, farm with their son's Tyler and Colin and son-in-law Tyler Metzger, near Larchwood, IA. Together, they raise 180,000 market hogs per year and farm 2,000 acres of corn and soybeans.
Shortly after purchasing the pigs in the 1970s, the family added a grinder-mixer to the operation. Although it had great versatility, it lacked capacity. In 1995, they built a separate feed mill designed to handle tonnage for 600 sows farrow-to-finish. As the years went on, they continued to grow and remodel the mill. Today, the mill runs 1,250 tons a week, producing 10 times the tonnage as the original design did.
"The feed mill has been our focus, something we can control," Brad said. "We can control the ingredients and check them if needed. Mixing our own feed has been a key aspect to our farm and our success."
In addition to the fully automated feed mill, the family has a triple roller mill to maintain better control of the corn's particle size, and drive feed conversion. They also have micron testing equipment, allowing them to check the micron's weekly.
Dr. Adam Schelkopf, Pipestone Swine Veterinarian agrees innovation is on-going for the Mosers through:
Feed mill optimization through bin scales.
Precise record keeping and data analysis used to make data driven decisions on feeder types, pig flow and barn design to maximize performance.
New technology advancements in barn controllers to monitor barn and animal parameters in real time.
Innovative and creative contract grower arrangements to influence the facility design and achieve the best outcome for pig performance and the grower/owner relationship.
Adoption of a new swine production model to optimize for what is needed in today's environment and position on the future. This included relocating sows to higher health, more biosecure facilities under air filtration.
Adopting new ideas, products, and challenging paradigms to drive down the reliance on antibiotics. This will help position them for the changing market and consumer.
The Moser's are progressive producers looking to improve their operation by implementing new technology and understanding data to make more effective decisions. There are very few independent produces who have this technology. They took the extra step and implemented scales and bins at most of their barns. This allows the farm to be more efficient at the mill and ensure their pigs never run out of feed.
– Angie Homann, Pipestone Director of Records and Information
Bin scales provide real-time information communicated directly to the feed mill. Barn controllers allow custom reports to include temperature, water usage, and now feed usage at any time.
"With the automated controllers, we are able to keep feed in front of pigs so they can continue to perform and grow," Tyler said. "If pigs do not eat, they do not grow. The controllers on farm allow us to monitor the amount of feed available on each farm, as well as monitor feed and water intake remotely. We can then intervene quicker."
Despite the challenge of 2020, the Idlenot Farm continues to innovate, looking for ways to continuously improve.
"The unique thing about the hog industry is there is a lot of opportunity to get better, fine tune things and drive improvement," Tyler said. "I find this rewarding and gravitated toward it when I decided to continue farming with family."
Brad agreed.
"Raising livestock allows us the opportunity to allow family to return to the farm," Brad said. "Today our sons and son-in-law are back working on the farm as the fifth generation."
In 2013, the family started to get involved with Pipestone. Today, they are a part of three System farms and work with Big Stone Marketing, Pipestone Business Services, Pipestone Management and Pipestone Veterinary Services.
Article by: Abby Hopp, Marketing Coordinator