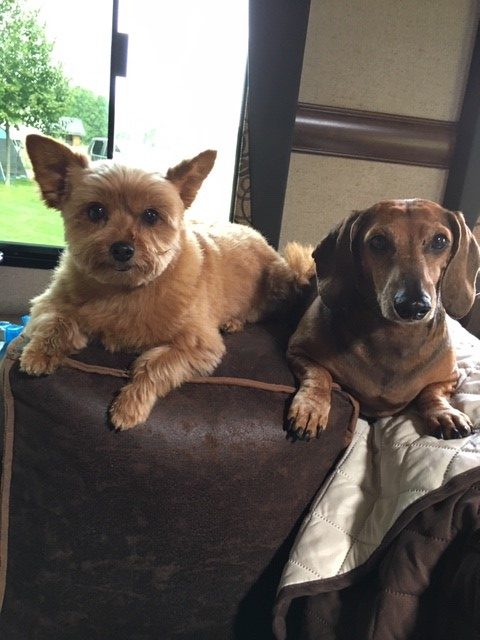 Jo and Steve Weets are proud pet parents of Lucky and Libby. Lucky (right) is a 9-year-old male Dachshund and Libby (left) is an 8-year-old female Yorkie-Pom.
How long have you had your dogs? 
We have had Lucky since May 15, 2013.  He was brought into the Sheriff by a land surveyor who had found him in a ditch.  I was fortunate to be by the Sheriff's office when he was brought in and  said we would take him if was unclaimed.  We were privileged to be able to give him a forever home.
We have had Libby since January 20, 2014.  My son took me to see the dog he was getting from the Brookings Regional Humane Society and little Libby was in the cage next to our sons new dog. Libby's eyes met mine and the rest is history. We were lucky to adopt Libby and make her part of our family.
It is amazing what good friends these two pets, who were total strangers, have become to each other.  They need to be together and are lost when they are apart.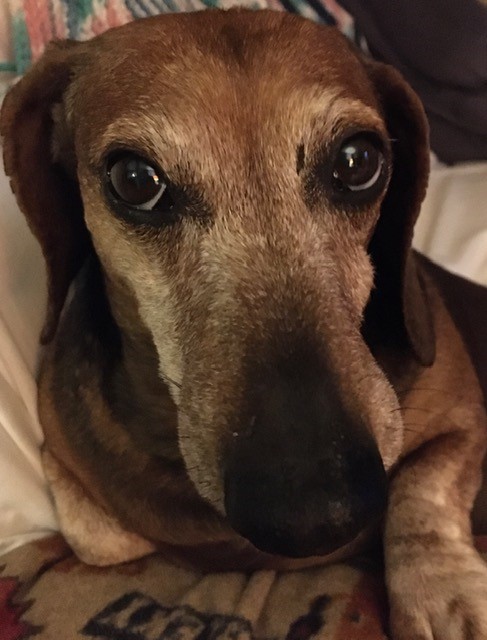 What do you enjoy most about having dogs?
Dogs to us are a part of the family.  They offer unconditional love and affection- they are trusting, faithful companions. Lucky and Libby are always happy to greet us if we have been gone for 5 minutes or 5 hours. They are our little buddies.
What is your dog's favorite activity or toy?
Lucky's  favorite activity is wrapping himself up like a taco in his favorite soft blankets. He can lay so still that you do not even know    that he is tucked away sleeping. His favorite toy is a reindeer that is about 3 feet long.  He can drag that reindeer around the house and squeeze it through doorways and into his bed.  His favorite sleeping toy is his monkey. His specialty is being able to find every  squeaker that is hidden in the toy.
Libby's favorite activity is going for walks and rolling in the snow until she looks like a little snowball.  She loves sitting up on her back two legs like a gopher and having her tummy tickled.  Libby does not really have a favorite toy as Lucky claims ownership to all of them.
Both dogs like to have their teeth brushed with Chicken toothpaste.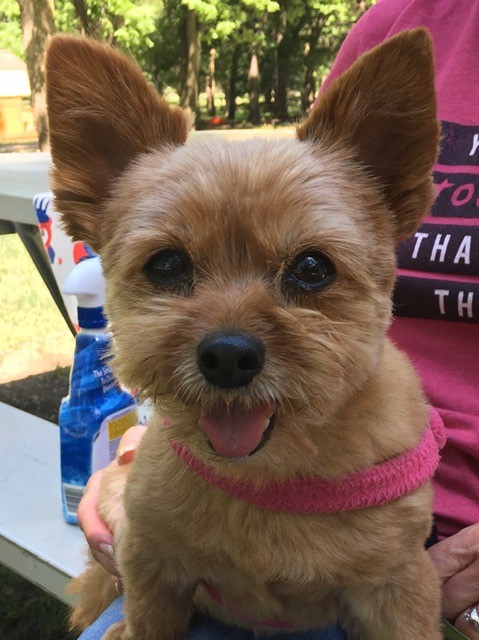 What is your dog's favorite food or treat?
Lucky and Libby  love chicken in any shape or form. We mostly buy  treats that are chicken based. They both love when they are on a soft bland diet as that means they get either chicken and noodles or hamburger and rice.
Do you have any special or funny stories about your dogs that you would like to share?
Lucky is a Houdini. He can use his nose to get the fence open and also escape from his harness from time to time.  He never leaves the yard but thinks he is a big shot if he can get to the other side of the fence.
Libby is our little weather predictor. As soon as she senses that there may be thunder she is under the bed in her safe place until the storm passes. She is our "brave" little soul who is afraid of  leaves, frogs and anything that may sneak up on her. But, she does keep our yard free of squirrels, rabbits and stray cats.
We just want to say a big THANK YOU to the small animal staff at the Pipestone Vet Clinic and we hope that Dr. Weber and her associates stay in Pipestone and continue to give their fantastic care to all of the small animals in the vicinity.