Every year, each state has their annual pork congress where they recognize the outstanding pork producers and their families. This year, Pipestone had many producers and shareholders that received an award.
South Dakota
2019 Pork All American- Craig Andersen
The South Dakota Pork Producers Council (SDPPC) elected Craig Andersen, a pork producer from Centerville, SD, to serve as president.
Andersen stated "I am honored to have been selected to be the SD Pork Producers President for 2020. Our hog industry is growing in the state which is enabling many of our young people to come back to the farm. My hope is that we grow our hog industry responsibly and with respect for our neighbors. I ask each of you to share your story with others so that we can all understand modern pork production. Our staff at the office is exceptional and if you have any questions, please call the office and they are more than willing to answer your questions."
2019 Family of the Year – Paul Brandt

Paul Brandt and his wife, Lisa, live on a 5th generation family farm near Clear Lake, SD.  Paul, and his twin brother Joel, operate Brandt Farms Inc, a diversified custom hog feeding operation, a cow/calf and feeder cattle operation, a diversified crop operation, and a seed sales business. Paul, a shareholder in Supreme Pork, Inc., which includes a 3300 head sow farm, with custom nurseries and finishers, receives pigs from this company into his custom hog feeding business. Paul is also a shareholder in Supreme Welding, Inc., a custom welding business in Clear Lake. Paul is a SDSU graduate with a degree in agronomy.
Paul and Lisa attribute the success of their operation to the help provided by their family and the 3 full time, long term employees, and the long term committed employees of Supreme Pork. Paul's dream is to one day involve all the kids in the farming operation in some manner.
2020 Master Pork Producer Prairie Queen Pork (Clint and Brandi Overskei) 
Prairie Queen Pork, owned by Clint & Brandi Overskei and Joel & Donna Overskei of Nunda, SD.  Joel farmed on the farm his family homesteaded in 1887, and Prairie Queen Pork is named after his great-grandmother.  Joel and Donna ran a farrow-to-finish operation until 1996, and then switched to running a custom nursery.   The Overskei's continued to expand their pork operation by purchasing ownership in three SD Pipestone sow barns, and now will finish over 50,000 pigs in 2020.  With this expansion, they were able to help 5 other families get started in the pork business by finishing pigs for them.
With the growth of their pig business, the Overskei's saw an opportunity in feed milling, so they built a feedmill in 2016 that produced 5,000 tons of feed the first year.  However, in 2019, that grew to 50,000 tons of feed, and utilized and added value to over 1.2 million bushels of locally raised corn. The Overskei's attribute a lot of their success to the people they work with, including Pipestone Management.  Dr. Scott Vander Poel is their veterinarian, and Dr. Jon DeJong & Ms. Emily Scholtz do the nutrition work, and do an excellent job for them.
2020 Master Pork Producer Award, The Fordham Colony(Johnny and John Glanzer)
Johnnny & John Glanzer from Fordham Colony were one of the winning operations in 2019.  Johnny has been working with pigs for the last 25 years, and he started in the hog barns when he was 15 years old when Fordham Colony had a farrow-to-finish operation.  Currently Fordham Colony owns a 2,000 head and a 1,500 head finishing barn, and also rents two 2,400 finishing barns from their neighbor Rory Burke and his family, who do a great job. Johnny spends a lot of time and attention to the smallest of details, and that results in the performance their farm enjoys.  Johnny said the key to their success is the good people doing the day-to-day work with the pigs every day in the barns.  Fordham Colony is located in Carpenter, SD.
Iowa

Master Pork Producer: Ben Reck 
Ben Reck of Winthrop has been farming his whole life and in 1998 he moved onto the family farm to be a part of the multigenerational family farm operation.  In 2008, Ben and his dad built their own feed mill, which they recently updated to a fully automated process.  In addition to finishing off around 8,500 head of hogs per year, Ben farms corn and soybeans, most of which goes through the feed mill and is fed to his pigs.  Ben is passionate about raising awareness about where food comes from and the importance of animal care, offering an open house after the completion of his newest pig barn.  Ben is active in his community and school district, is a member of Buchanan County Pork Producers, St. Patrick's Catholic Church and Buffalo Creek Golf Course.  Ben and his wife Amy have four sons – Hunter, Riley, Owen and Gavin.
Master Pork Partner: Matt Zitelman 
Matt Zitelman manages Prairie Gold, a Pipestone Management sow farm near Winthrop, IA.  Matt has worked for Pipestone for 18 years and started out as a caretaker before quickly working his way up the ranks to Manager, the position Matt has held for 9 years.  Matt works hard to cross-train, mentor and develop his team of employees.  His relationship with his team is noteworthy and the effort he puts into training, mentoring and developing his team members is evidenced by the number of individuals that have advanced their own careers within the Pipestone Management.  Matt has been a part of the Buchanan County Pork Producers for 4 years and currently serves as the Vice President.  In addition to the time Matt spends volunteering in his community, he encourages his team members to do the same.  Matt and his wife Tracy live in Jesup, IA and have three children – Isabelle, Charlotte and Noah.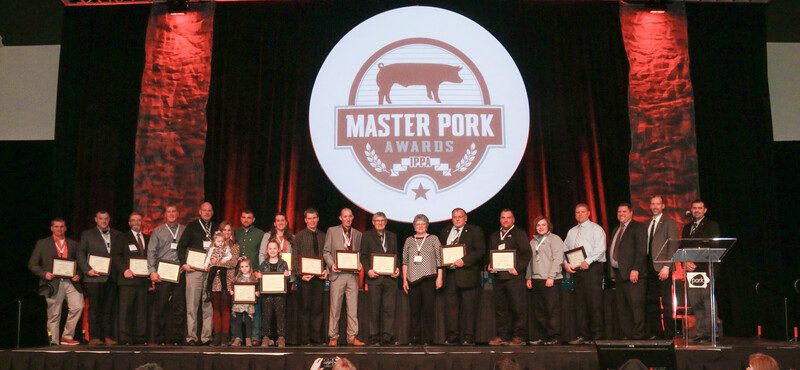 Master Pork Producer: Nolan Kooiker
Nolan Kooiker of Doon has been raising hogs for over 30 years.  Nolan's introduction into pig farming started when he was in high school and was tasked with a "sophomore gilt project" for FFA.  He started with one bred gilt and his passion for pig farming ignited.  Nolan ran a wean-to-farrow operation before converting to a wean-to-finish operation in the late 90's.  Currently finishes out about 13,000 head per year.  Modern pig farming's emphasis on producing safe, affordable and nutritious food is Nolan's favorite aspect of pig farming.  Nolan volunteers his time in his community, is a member of the Lyon County Pork Producers, attends First Baptist Church and sits on the board of directors for Lyon Rural Electric Cooperative.
2020 Iowa Pork Youth Leadership Team Contestant 
Macy is the daughter of Mike and Megan Loecke (Pipeestone System shareholder).  Macy participated in the Youth Leadership Team competition this year, and although she was not chosen as Pork Queen or Youth Ambassador, she did a great job of shining a positive light on the pork industry.  Macy is a freshman at Des Moines Area Community College and is studying Ag Business with an emphasis on Animal Science.
Minnesota

Swine Manager of the Year- Tim Kerkaert 
In his 20 years of involvement in pig farming, Tim Kerkaert, the 2020 Swine Manager of the Year award recipient, has risen to become a well-known leader within Boerboom Ag Resources.
Equipped with an agricultural background growing up on a hobby farm outside of Marshall, Minnesota, consisting of a handful of pigs and cattle, Kerkaert always enjoyed life on the farm. During the summers and on weekends, he frequented his grandparents farm, now the home farm for Boerboom Ag, and stayed involved showing pigs and cattle for 4-H.
Today, Kerkaert manages grow-to-finish sites, overseeing approximately 65,000 pig spaces. At each of the sites, he communicates with the contract growers and makes sure they all have the necessary tools and information needed to succeed.
His greatest goal as a manager is to see what needs to be done to maintain or ensure the animal's well-being, understand the employee's needs to achieve the desired outcome, and then balance that with the company goals.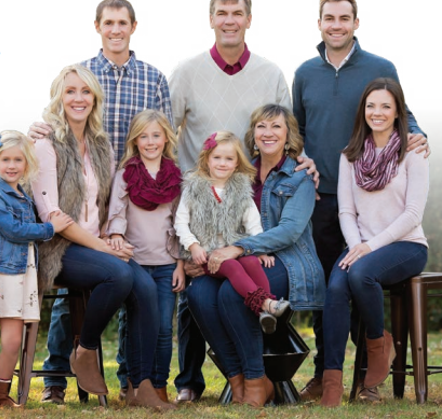 2020 MN Family of Year at the MN Pork Congress–Kevin and Mary Hugoson, along with their children, Angie and Eric were awarded the MN Family of the Year. With growth over the years it has provided the opportunity for their two children and their families to come back to farm and be involved.
Congratulations to all!